Here at Richards Bros Ltd we have some of the most up to date and sophisticated diagnostic test equipment available. This includes one of only a few TAT Dyno Systems 2 wheel drive rolling roads in the country.
We can rolling road test and tune two wheel drive vehicles from your everyday road car or commercial van to full single seater race cars. We can accurately produce multiple results of Bhp and torque up to 1000 Bhp and retarded loading up to 600 Bhp using the latest single roller TAT computerised rolling road.
The rolling road enables us to test your vehicle in as close to 'real life' conditions as possible to driving on the road. Whilst doing this we can monitor the fuel and ignition systems along with turbo boost, air temperature, oil temperature, barometric pressure and much more using the latest data acquisition software from TAT (this software is used by many manufacturers in their engine dyno cells). This software allows us to carry out tests and fault diagnosis in controlled and repeatable conditions.
We believe in being honest and tell it as it is, and can offer advice on what's best for your vehicle. All vehicles tested on the rolling road are given a colour graph of the results and this is held on computer for future comparisons.
As Bosch, Delphi, Denso, Continental, Stanadyne and Weber service agents we have the experience and technical knowledge to cover most carburettor and fuel injection systems (Petrol and Diesel) and are able to diagnose and repair almost all the systems used.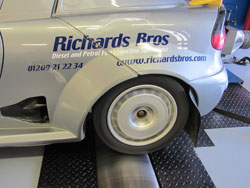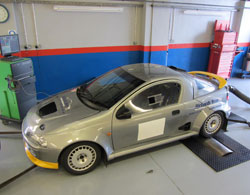 Aftermarket EMS
We can program/remap the leading aftermarket engine management systems from DTA, Omex and Emerald. Should you have another system fitted to your vehicle contact us to discuss it further, providing we can get a comms lead and software there should be no reason why it can't be done.
We carry in stock a full range of Weber and Dellorto jets. Also stocked are a range of SU and Stromberg needles and jets, although there are so many variables available we cannot guarantee to have your exact requirement on the day.
Whether your vehicle is new or historic, standard or modified we can cater for all your diagnostic and tuning needs.
If you want your vehicle to be rolling road tested or tuned by our highly experienced operators using the latest TAT machinery and software, whether its a power run or a full custom tuning session call us to discuss your requirements.
Before your rolling road session please take note of the following points:
Please ensure your vehicle is in good mechanical condition.
The vehicle has a full tank of fuel.
That there are no major oil or water leaks.
That the tyres are in good condition.
Please inform us of any problems with your vehicle before we start any testing!
Power Runs £48 inc vat.
Diagnostics, Tuning & Remapping £90.00 per hour inc vat.
Rolling Road Shootouts:
We are happy to host rolling road shoot outs. If you're a member of a club and wish to organise one of these events we will require a minimum of 10 cars in your group.
Click here for further information or for booking details contact us or phone 01209 212234.
Shootout Days from £30 per car inc vat
PRM Tigra Rolling Road Dyno Run – Short Version
PRM Tigra Rolling Road Dyno Run – Long Version